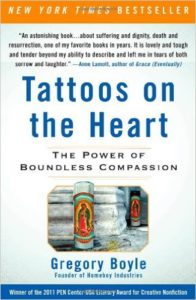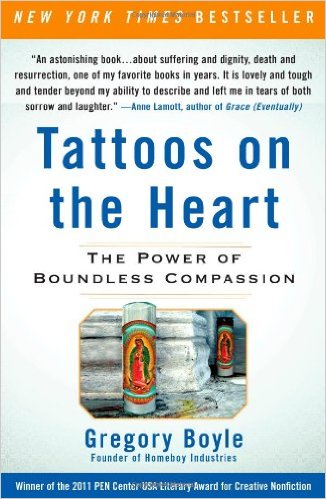 "Tattoos on the Heart - The Power of Boundless Compassion" by Gregory Boyle (2010)
I took this powerful book with me on my trip to Haiti.  It so encouraged me and others who I went to work with.  I loved Gregory's writing syle, so full of inspirational stories, humor, and examples of kinship, love and redemption. He works with gang members in Los Angeles.  LA County claims 1100 gangs with 86.000 members.  He has created a work site and therapeutic community; a training program and business.  "The Homeboy industries is not for those who need help, only for those who want it."  He gives them the opportunity to glean soft skills at Homeboy Industries and the opportunity to work with their enemies making the place a "United Nations" of gangs.  
The preface arrested me and touched my heart from the beginning.
"If there is a fundamental challenge with these stories, it is simply to change our lurking suspicion that some lives matter less than other lives.  William Blake wrote,'We are put on earth for a little space that we might learn to hear the beams of love.'  Turns out this is what we all have in common, gang member and nongang member alike:  we're just trying to learn how to bear the beams of love."
He says, "I have learned to worship Christ as He lives in them."
One story Gregory shares…. He switched his strategy dealing with an exasperating homie, Sharkey, to catching him doing the right thing rather than being harsh and exacting when he did the wrong thing.  He tells him how heroic he is and how his present courage in transforming his life far surpasses the 'hollow bravery' of his barrio past.  This shocks Sharkey and he stares at Gregory and says, "D… G….I'm gonna tattoo that on my heart."  
Oh, if we could realize the power of our words and the influence we have on each other!
Let's encourage each other today and every day, wherever we go.  
Let's see what God sees and confidently proclaim it!  
Let's tattoo encouragement and God's vision on hearts! 
Jane
Did you know you can get some AWESOME inspirational books for free or for great discounts?!