In this time of  "social distancing", I hope you are using this opportunity to "seize the day" and to do those creative projects you have postponed forever, take the on-line course for something you have been wanting to learn, tackle those home projects that you just haven't had time for, AND I hope you are making time to READ!  🙂
I have been reading LOTS of book on creativity.  The book I am sharing today has some huge truths and lots of encouragement in it for you to pursue your passion and follow your heart.  This is my big message that I seek to share to encourage others to GO AFTER THEIR DREAMS, so I resonated with a lot of what Bob Doyle says in "Follow Your Passion, Find Your Power."  
When things do not work, and we realize our limited knowledge and understanding, it is just a realization of our need to give it up to God.  (Bob likes to use the words "intelligent power" or the "Universe,"  whereas, I prefer to call God, God.)  God will give us clarity of our vision, and once we are clear, we can take action.  As we step out, God meets us there.  We experience "attraction" to what we are desiring and many interesting and unexpected connections begin to happen as in conversations, new people, creative inspiration, opportunities, confirmation in books or whatever we are reading, watching etc.  These connections come to inspire us to move forward into ACTION.
You may be thinking of some examples of this in your life.  One example from mine was several years ago when everything I read or watched seemed to be about Africa and tugged on my heart!  Even the end of a ministry talk show I caught the end of while walking on the treadmill was talking about digging wells in Africa.  I was so inspired but not clear of what God might be telling me I told my husband we could at least help dig a well!  LOL!  (ACTION)  I read more books about Africa which happened to be Heidi Baker's books of whom I had seen in the video.  I was so touched, I went on line to find out more about her and discovered she was going to be speaking in California.  I felt I "had" to go to find out what this tremendous "pull" toward Africa.  I did go.  (ACTION)  I was even more inspired and contacted another speaker who had been at the same conference with Heidi, who does missions around the world and takes teams.  When I went on line, I discovered that he was taking a team where?  Yes, you guessed it to Pemba, Mozambique, Africa to help Heidi Baker!  (I applied and went!)
We must take ACTION toward the passion that is calling us.  We must come to understand that we are not limited.  We have infinite possibility because God is in us!  Taking even tiny, small steps of ACTION will help us to shift from negativity/unbelief to positivity/belief.  Negativity attracts just like the positive.  We must choose what to believe.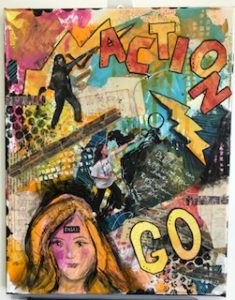 As you choose to believe that you can indeed accomplish your passion/dream/goal, write about it in detail as if it has already happened.  Use your imagination to see what your life would look like if it had already happened.  What would a day look like?  How would your feel?  What would you be doing?  How would this passion/dream/goal affect your loved ones, friends, and world?  Writing is a powerful way to receive and to firm up beliefs.
Finally, I want to remind us to be grateful.  Gratefulness attracts.  Acknowledge and appreciate the everyday ordinary things in your life, what you have, and what you are doing presently. We have so much to be thankful for!  You may want to start a "Gratefulness" group with your close family or friends, just a few, in which you share what you are grateful for each day, or just speak what you are grateful for out loud to God, or write it in  your journal.  God is so good. He is bringing us through this time.  Let us join together to be grateful for the good gifts of opportunity within the crisis as we trust in Him to bring us through.
Gratefully Yours,