"What More Can You Do?
One life can, and always does, change the world.
John remembers a life changing visit by one man as he lay in the hospital after the fire:
"I was just lying in my hospital bed.
I couldn't move. (I'm strapped to the bed.)
I couldn't talk.  (The ventilator prevents it.)
I couldn't see.  (My eyes are swollen shut.)
I was in the dark, in pain and totally scared.
But also dreaming, hoping, and praying.
And listening.
Intently.
It was in listening that I was blown away.
You see, I like sports….I love baseball.
The St. Louis Cardinals are my team…… Most of the time we listen to the radio to "watch" the ballgame. We listen to a guy named Jack Buck.  He's the voice of the St. Louis Cardinals….
And he is the guy who walked into my hospital room.
He said,"Kid.  Wake up."  I recognized his voice right away.
"Listen to me.  You are going to live.  You got that?  You are going to survive.  And when you get out of here, we are going to celebrate!  We'll call it John O'Leary Day at the ballpark."
When he left I was still tied down to the bed, eyes swollen shut, unable to move, unable to speak, unable to do anything…. But I was absolutely fired up!!
In his scariest, bleakest days, ONE man's voice shone light into his darkness.  ONE visit gave him a promise to cling to.  ONE voice echoed hope.  And Jack only got the opportunity to have such an impact because ONE person told him John's story.  Jack asked himself, "What more can I do?"  He saw possibilities not limitations.  He took action where others watched idly by and focused on making a difference for others.
(Jack later returns many times to encourage John to write thank you notes, John had no fingers, in return for signed baseballs.  He ends up with 60 signed baseballs.)
Jack chose to lead a radically inspired life.  He is an example of the 6th choice: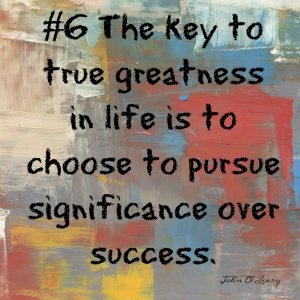 "Believing in the power of ONE allows us to see where we could make a difference.  it allows us to see the opportunity of 'What more can I do?'   It jars us from sleepiness, wakes us up to pay attention, and demands that we take action.  ……  Believing opens your heart to love, your eyes to possibility and your life to the truth that your life, that every life, matters profoundly."
Yes!  You can also make a difference in someone's life.
You are the ONE to believe,
to love, to see possibility and to take action!!
Believing,
Jane
Don't forget to comment in the comment section on my website HERE! to enter the drawing for a FREE copy of "On Fire!"
ALSO HERE IS A LINK TO PURCHASE "BECOMING THE WOMAN I WANT TO BE" BY DONNA PARTOW FOR KINDLE FOR $1.99 NOVEMBER 11-17.