Hello, fellow readers!!  Don't you just love technology these days?! So even though I didn't bring a lot of books with me, I have a lot of unread books on my Kindle app ready and waiting. I was so grateful they were, as I had an unexpected amount of reading time in the middle of my mission trip to Cambodia, courtesy of my appendix throwing a fit!
I read "The Invention of Wings" by Sue Monk Kidd. It was a fascinating book written during the time of slavery, abolition, and the beginning of the women's rights movement based upon the true lives of the Gimske sisters. Sue writes with such insight into their hearts and minds that I just could not put it down. She not only shows us their amazing courage to stand for what they believed was right but also the inside heart and soul of a slave girl and her and her family's courage and fortitude as well.
It is truly an inspiring story of courage and of "following your heart " that can inspire us to press into our callings as well!
The Invention of Wings
I hope you are able to find some time to read this Fall!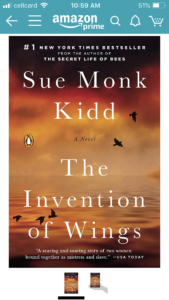 Jane